Latest News
July 30, 2019 - REU2019
Pawat Rithipreedanant, a junior undergraduate in Civil Engineering with a minor in Computer Science at Lehigh University, has been working with Dr. Paolo Bocchini and Dr. Wenjuan Sun this summer. Pawat's research focuses on applying Faster-RCNN, a type of machine learning algorithms, to rapidly detect the object of telecommunication towers from every image, in order to improve the automacity of data collection. He has just presented his work this morning at the ATLSS REU 2019 Presentation, titled "Developing a Tower Detection AI".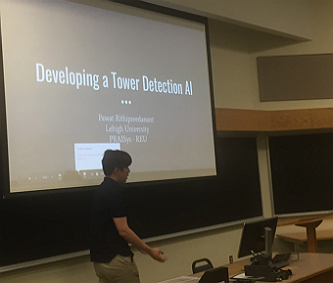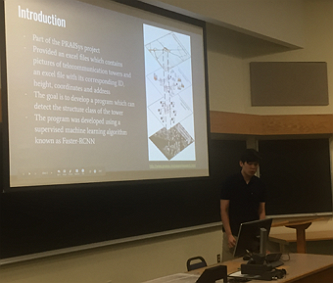 June 18 - 21, 2019 - EMI2019
The Engineering Mechanics Institute Conference (EMI) 2019 was taken place in Pasadena, CA, on June 18-21, 2019. There were over 1000 abstracts submitted to this conference. Two members of the PRAISys team, Dr. Paolo Bocchini and Dr. Wenjuan Sun, attended the EMI2019 to present their recent work on interdependency modeling for resilience assessment. The presentation focused on presenting the PRAISys platform that can implements various interdependency models to support infrastructure disaster management.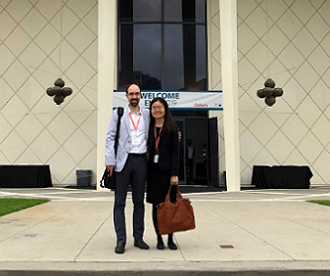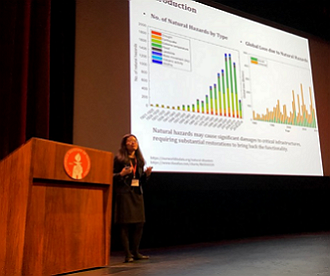 May 26 - 30, 2019 - ICASP13
The 13th International Conference on Applications of Statistics and Probability in Civil Engineering (ICASP13) was taken place in Seoul, South Korea. There were 394 registered delegates from 36 countries registered in this conference. Two members of the PRAISys team, Dr. Paolo Bocchini and his student Mr. Liyang Ma, attended the ICASP13 to present their recent work on probablistic modeling for the infrastructure resilience assessment. Their presentations focused on the restoration decision modeling and the resilience assessment of the power system, respectively. Both were well recieved, followed with heated discussion. At this conference, Liyang won the CERRA Student Award for applications of probability in civil engineering, for his research on the resilience assessment of power transmission systems, as part of the PRAISys project.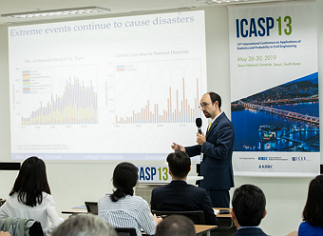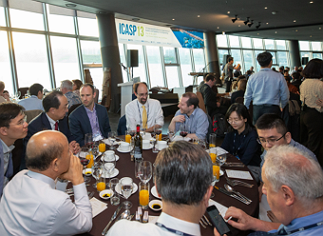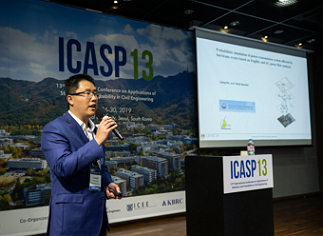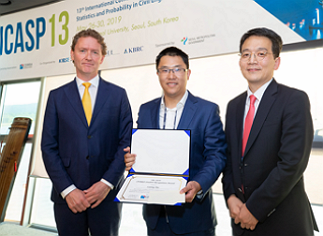 April 8 - 12, 2019 - OSIsoft PIWorld 2019
PIWorld is taking place at San Francisco on April 8-12, 2019. It brings together over 300 partners from all over the world and three days of a vibrant partner and product expo, involving softwarer developers, data analysts and data scientists, PI system administrators, and IT professionals. This year, Tim Predmore, a senior in Civil Engineering from Lehigh University, presents the colloaborative results between the PRAISys team and OSIsoft on the visualization of damage and recovery data from the PRAISys platform. Tim was an summer intern with OSIsoft in 2018, working at the office in Philadelphia, PA. At that time, he collaborated with the PRAISys team to integreat data on PI system and ArcGIS online platform for the real-time data visualization.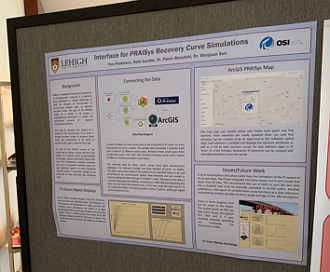 December 5 - 6, 2018 - CRISP Grantees Workshop
The PRAISys platform goes public, when the PRAISys team has attended the CRISP Grantees Workshop in George Mason University at Arlington, VA, sponsored by the National Science Foundation on December 5-6, 2018. The PRAISys team presented a 12-minute presentation and a poster at the workshop. The poster described features of the PRAISys platform, particularly focusing on interdependencies and uncertainties, serving as a decision support tool for disaster management. PRAISys is a joint effort that has involved 43 researchers to date (and growing) at Lehigh University and partner institutions. More interesting findings and publications are coming out.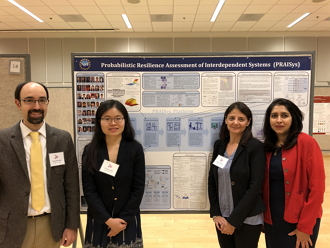 May 29 - August 3, 2018 - REU
Sponsored by the National Science Foundation , our REU project officially starts this summer from May 29, 2018. We are glad to announce that two REU undergraduate students, Natalie Rosato and Chase Gallik, have joined the PRAISys team. After 10 weeks' hard work, they have made impressive achievements in collecting data of historical hazard scenarios and the power distribution infrastructure in our testbeds (the Lehigh Valley and Southern Florida).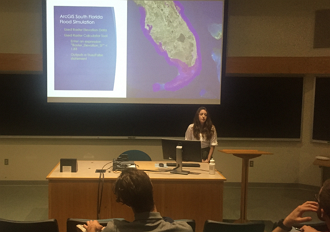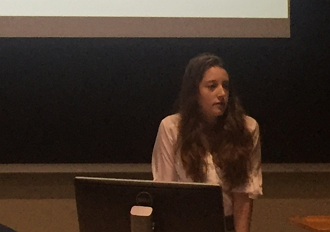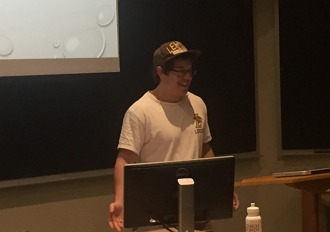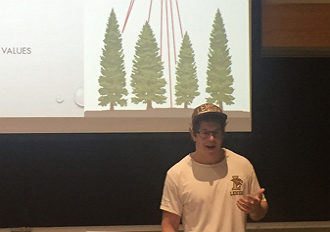 May 29 - June 1, 2018 - EMI 2018
The Engineering Mechanics Insitute (EMI) Conference was held on May 29-June 1, 2018 at Cambridge, MA. The PRAISys team (Paolo Bocchini, Wenjuan Sun, Liyang Ma) presented their work on the bottom-up restoration simulation of generalized interdependent systems and the resilience assessment for the electric power system, respectively. In particular, Liyang Ma won the second prize in the Objective Resilience student competition. His exceptional work focused on the resilience assessment of the electric network (IEEE-30 Bus) with the DC power flow analysis under a hurricane scenario (Katrina).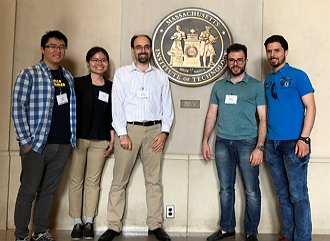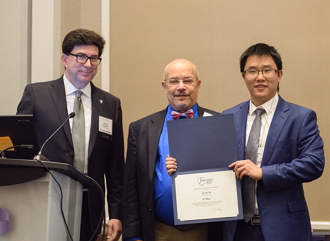 May 17, 2018 - "Interdependent Infrastructure Incident" workshop
The "Interdependent Infrastructure Incident" (I3) workshop is organized by the PRAISys Team, funded by NSF. It was held on from 8:30 am to 11:45 am on May 17th, 2018, Cypress Rooms A&B in the 32nd Governer's Hurricane Conference at West Palm Beach, Florida. This workshop feaured a tabletop (discussion-based) exercise under a simulated disaster scenario, involving experts from many disciplines and agencies, and local governments in Florida peninsula. AICP CM credit were awarded to participants in the "Interdependent Infrastructure Incident" workshop, but space is limited. Participants were asked to register online . The Center for Disaster Risk Policy at Florida State University helped us with this event.
May 9, 2018 - The 24th Annual CNSF Capitol Hill Exhibition
The PRAISys Team participated the 24th Annual CNSF Capitol Hill Exhibition to support national funding in Washington, D.C. At the exhibition, Dr. Paolo Bocchini, Dr. Wenjuan Sun, and Vasileios Christou presented their research on disaster resilience, covered in the PRAISys project.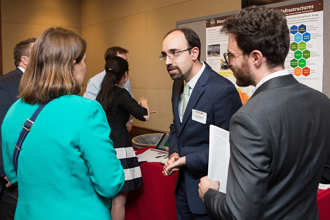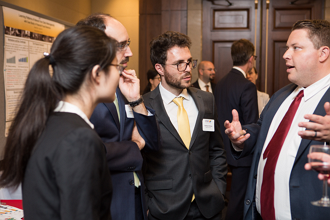 October 12 - 15, 2017 - ACSP 57th Annual Conference
The abstract prepared by Drs. Diana Mitsova-Boneva, Ann-Margaret Esnard Alka Sapat has been accepted for the 2017 ACSP 57th Annual Conference. This abstract is a product from the close collboration between social science group and engineering group in the PRAISys project. The ASCP 57th Annual Conference will be held on October 12-15, 2017 at Denver, CO. Dr. Mitsova will present their work on criticality assessment of infrastructure interdependencies in this conference.
September 22, 2017 - the Second Seminar on Infrastructure Resilience
We successfully held the 2nd seminar on Infrastructure Resilience at Lehigh University. There were over 40 audiences, including professional engineers, administrators, graduate students, and undergraduate students. The seminar consisted of two sesions. The first session focused on simplified methods for resilience assessment to improve effectiveness on regional planning and risk mitigation. The second session presented quantitative methods with applications in different engineering disciplines to conduct resilience assessment and improve engineering design. Find photos here.
August 16 - 18, 2017 - MOPTA 2017
The MOPTA conference 2017 took place at Lehigh University in Bethlehem, PA from August 16 to August 18, 2017. Dr. Lawrence V. Snyder, Afshin OroojlooyJadid, Dr. Alberto Lamadrid, and Dr. Wenjuan Sun attended this conference. Afshin OroojlooyJadid gave a presentation of applying deep learning to the beer game. Wenjuan Sun presented her work on the computational model of using multi-mode resource constrained project scheduling problem (MRCPSP) to simulate the post-disaster functionality recovery for interdependent systems.
August 6 - 10, 2017 - ICCOSAR 2017
The 12th International Conference on Structural Safety & Reliability (ICCOSAR 2017) was held in August at Vienna, Austria. Dr. Paolo Bocchini and Liyang Ma attended this conference. Liyang Ma presented a simulation framework to determine probablistic restoration function at this conference.
June 13 - 28, 2017 - STAR Academy
Three STAR Academy sessions were given to local high school students to introduce the concept of resilience at STEPS building in Lehigh University. Every session last for 90 minutes, including an introduction presentation with interactive Q&A sessions and an education game with interesting discussions on emergency management under a hypothetical earthquake.
Find more
June 4 - 7, 2017 - EMI 2017
Dr. Bocchini attended the Engineering Mechanics Institute Conference (EMI) 2017 at San Diego, CA and discussed the work plan of a chapter on infrastructure interdependencies within MS 163 - Introduction to EMI Objective Resilience Manual of Practice.
May 31 - August 4, 2017 - REU at Lehigh University
Chase Gallik joined the REU program at Lehigh University since May 31, 2017 to work on data collection from PPL electric and development of synthetic electric power network. In the meantime, Baiyu Xiang joined the PRAISys team as a researcher on the improvement of the minimum work example for the PRAISys platform.
January 12, 2017 - PRAISys 2nd Retreat
The 2nd retreat of the PRAISys project were held in Fort Lauderdale, FL on January 12 - 13, 2017. The LU team and FAU team came together to state the research progress in the past year and discuss the plan for the coming year.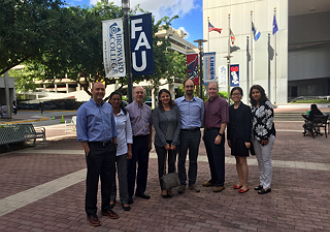 December 22, 2016 - New Publication
A new journal paper on ASCE Journal of Infrastructure Systems has been published online. This paper presents a new framework to estimate probabilistic restoration functions for damaged bridges at component-level.
From Component Damage to System-Level Probabilistic Restoration Functions for a Damaged Bridge Journal of Infrastructure Systems, 2016, DOI: 10.1061/(ASCE)IS.1943-555X.0000342.
October 28, 2016 - Infrastructure Resilience Seminar for Professional Engineers
A four-hour seminar was held on Oct 28, 2016 in Neville Hall at Lehigh University in Bethlehem, PA. It was entitled Introduction to Infrastructure Resilience. There were five presentations in this seminar. Three professional development hours (PDHs) were awarded to professional engineers, who attended this seminar. Over 50 audiences attended this seminar, among which 11 were professional engineers (PEs).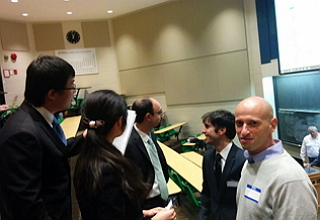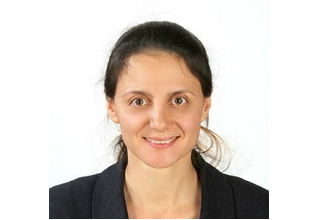 June 15-29, 2016 - STAR Academy
Three seminars on infrastructure resilience were given to students in 10th and 11th grades to support STAR (Students That Are Ready) Academy at STEPS building in Lehigh University on June 15th, 22nd, and 29th, 2016.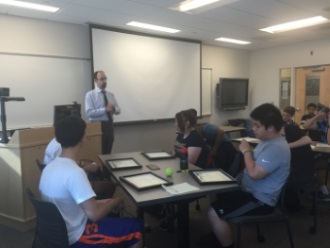 April 15, 2016 - New Publication
The first journal publication officially developed under the PRAISys project was accepted and is available online. This paper presents a novel evolutionary optimization methodology called "Algorithm with Multiple-Input Genetic Operators" (AMIGO) for optimal resilience restoration scheduling independent tasks considering resource and time constraints.
Sequencing algorithm with multiple-input genetic operators: application to disaster resilience. Engineering Structures, Elsevier, Vol. 117, Issue C, p. 591 - 602, 2016.
Feburary 22, 2016 - New Hire
Dr. Wenjuan Sun joins the PRAISys team as Research Associate. She will assist the PIs coordinating the development of the PRAISys platform and running the day-to-day operations of the project.
Feburary 14-17, 2016 - Geo-Structures Congress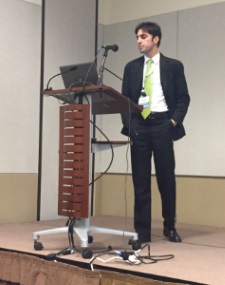 As part of the PRAISys project, Aman Karamlou presents his work on Functionality-Fragility Surfaces at the 2016 edition of the ASCE Geo-Structures Congress in Phoenix (AZ).
January 14-15, 2016 - PRAISys 1st retreat
All the PIs of the PRAISys project, including those from Florida and Georgia, as well as several students and postdocs gathered for a two-day retreat in Bethlehem to discuss the project, its long-term vision, and the details of all the immediate priorities.
December 22, 2015 - Press Release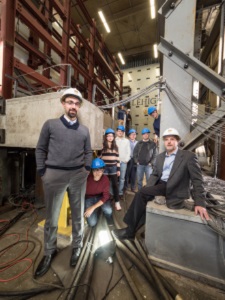 As the activities of the project continue, Lehigh University features this effort in another article and sets up a photo shoot with "artistic" pictures capturing the PRAISys team at Lehigh.
October 22-23, 2015 - National Workshop on Resilience Research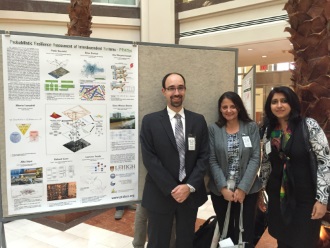 Part of the PRAISys team attends the National Workshop on Resilience Research organized by the National Science Foundation in Arlington, VA, on October 22-23, 2015.
October 15, 2015 - Press Release
The PRAISys project has been reported on the website of Lehigh University. Follow the link to learn more.
October 1, 2015 - Press Release
The PRAISys project has been featured in other press relases on the website of Florida Atlantic Univesity and on the media outlet Newswise. Follow the links to learn more.
September 23, 2015 - Postdoc Position Announced
The PRAISys team has officially opened the search for a Postdoctoral Research Associate. If you are interested in this opportunity, submit your application as soon as possible through AcademicJobs online.
September 14, 2015 - Press Releases
The CRISP program and the PRAISys project make the news through three press releases distributed by the White House, the National Science Foundation, and EurekAlert. Follow the links to learn more.
September 3, 2015 - Award Announcement
The National Science Foundation officially announces the award for the collaborative proposal between Lehigh University and Florida Atlantic University under the CRISP program. Read more